Introducing our
TABLETTE DE CIRE PARFUMÉE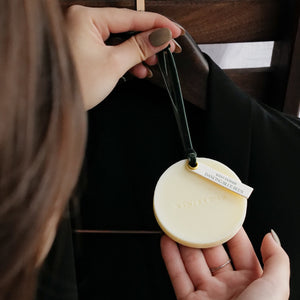 Instructions
A Guide to Using Your New Perfumed Wardrobe Tablet
Unwrap your tablet.
Using the ribbon, tie the tablet onto a clothes hanger.
Place the hanger back into your wardrobe.
That's it!
Now just sit back, relax, and allow your new wardrobe tablet to delicately infuse your garments with its captivating scent.
It's time to indulge in the allure of your now luxuriously scented wardrobe, adding a simple touch of opulence to your everyday life.
Precautions
Read Before Use for the Best Scenting Experience
Do not hang the wardrobe tablet in your vehicle.
High temperatures & sunlight can cause the perfumed wax tablet to melt.
Avoid direct contact with fabrics.
Storing in high temperature locations may cause the natural oils in the perfumed wax tablet to separate.
Relocate to a room temperature environment.
Upon receipt, please place the perfumed wax tablet in a room-temperature environment ASAP to prevent melting.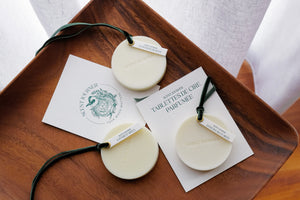 Our Commitment To
Mindful Formulation
Like all Scent Journer creations, this wardrobe tablet embodies our unwavering commitment to crafting sustainable products that are better for our planet.
Our exquisite perfumed wardrobe tablet is meticulously created using renewable and sustainable soy wax, a choice that is far kinder to the environment over the more commonly used petrochemical-based Parrafin.
With Scent Journer, you can douse your world in scent and indulge in fragrances guilt-free knowing that you're minimising your environmental impact.
CLOUDS IN HEAVEN | DANCING BLUE BEES | A STARLIT SPELL
Fill Your Wardrobe with Our Signature Scents
online-exclusive benefits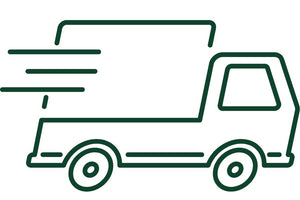 Free Shipping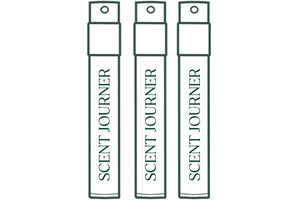 Free Samples
with every order (whilst stocks last)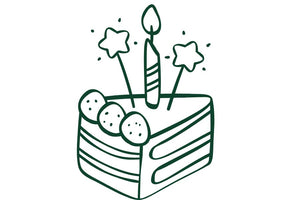 Rewards
Birthday gifts & exclusive deals
Art of Gifting
Eco-friendly gift boxes topped with an elegant ribbon on all gift sets
Collection
Home
Explore the many other ways you can scent your home with our signature scents.
Shop Now
Perfect for my lingerie drawer
I place A starlit spell wardrobe tablet in my lingerie drawer and it leaves a beautiful intimate scent on my bra. Love how feminine it smells!